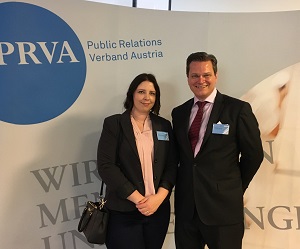 As of last December, CLIP Mediaservice is a member of the Public Relations Association Austria (PRVA). The PRVA emerged in 1980 from the Public Relations Club Austria (PRCA), founded in 1975, and is headquartered in Vienna.
The PRVA is the Austrian professional association of communication experts and sees itself as an independent, voluntary association of communication experts from companies, agencies and organizations.
What does the PRVA do
The Public Relations Association Austria organizes several events every year, such as the Communication Day and the PR Gala. Furthermore, there are also round tables on specific topics, where communicators can exchange views.
Another activity of the PRVA is to award prizes. Every year several prizes are awarded, such as the "National Prize for Public Relations", which is awarded by the Federal Ministry of Science, Research and Economy (BMWFJ), the "Austrian Science Prize for Public Relations" for academic work and the "Communicator of the Year" award. At this year's Austrian Communication Day in April, Helmut Burtscher-Schaden, who works for the environmental organization GLOBAL 2000, was elected "Communicator of the Year 2017".
In addition, the association has its own promotional program for PR newcomers which offers them special lectures, discussions and discounts, as well as help with job entry.
Why is CLIP Mediaservice a member of PRVA?
As a media observer, the majority of our clients work in the field of public relations. Therefore, it is important for us to know what drives the PR world and what new developments this area holds. Joining PRVA is a great way for CLIP Media Service to know what our clients are occupied with, what they need from a media observer, and how we can support their work to the best of our abilities. Membership ensures that we do not miss any new developments and always stay up to date.
Naturally, the PRVA also offers great opportunities for networking, which were employed on the communication day or #ktag2018, for example.
CLIP Mediaservice will also be represented at the PR gala in November.
Incidentally, CLIP Mediaservice is also a member of FIBEP, the World Association of Media Monitoring Organizations.